lovepicking
(2012)
"To show that hearts can be opened without breaking them."

Love Locks are a custom by which padlocks are affixed to a bridge or similar public fixture by couples to symbolize their everlasting love. The couples then throw the keys into the river together.
By lockpicking the Locks of Love, we question the idea of love or relationships being bolted and barred, closed like a prison or cage, which can only be opened by breaking it.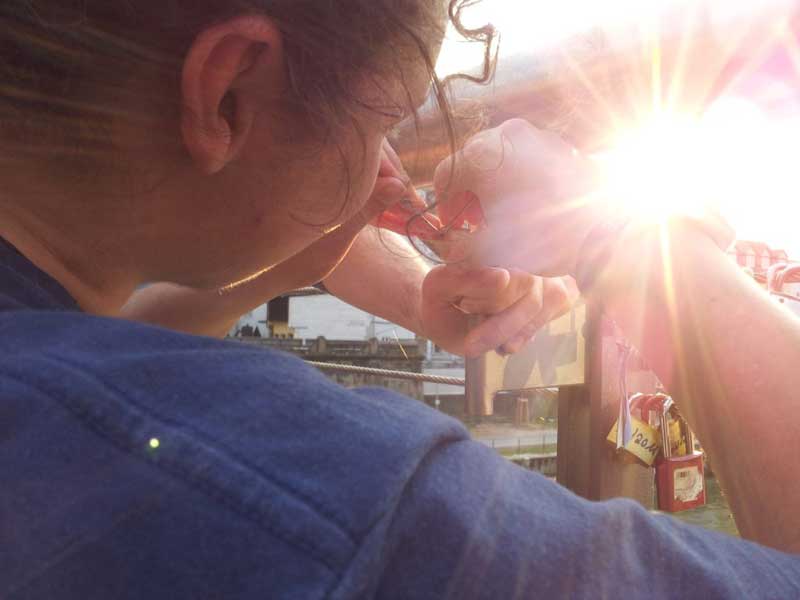 Photo: Daniel Zipris
At the Takeoff event of the Hackerspace Bamberg (b4ckspace) I held a workshop called Urban <-Space Hacking. The idea was to conceive and perform small interventions in the urban space of Bamberg, using little or no material, in order to call attention to the newly opened hackerspace.
After a short introduction about what Urban Hacking is and could be, we set out into the city centre in order to brainstom and find inspiration.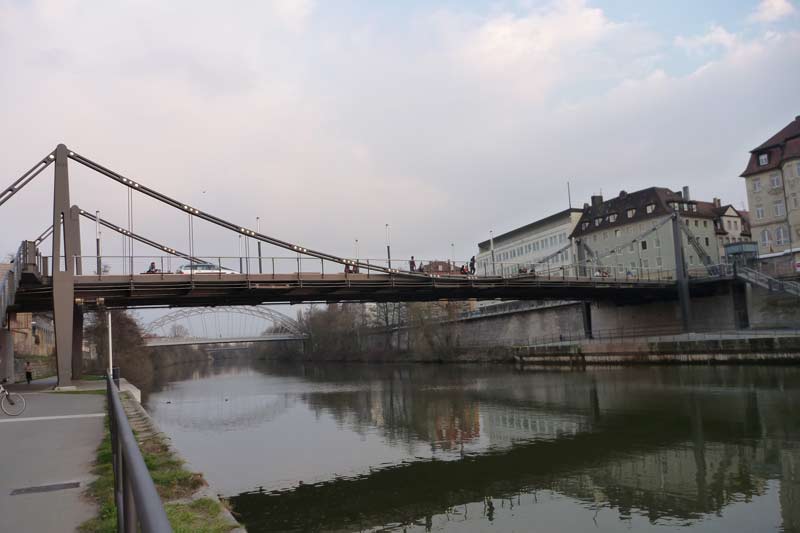 The Kettenbrücke in Bamberg
Early ideas included seed-bombing the federal horticultural show and knitted graffiti with electroluminescent wire, but our ideas kept circling around the chain bridge (Kettenbrücke) in Bamberg and the many Love Padlocks there. We were discussing ideas such as attaching a lock stating "Just divorced" or an open lock symbolizing an open relationship, when one of the participants said "Wait, I brought a lockpick set!"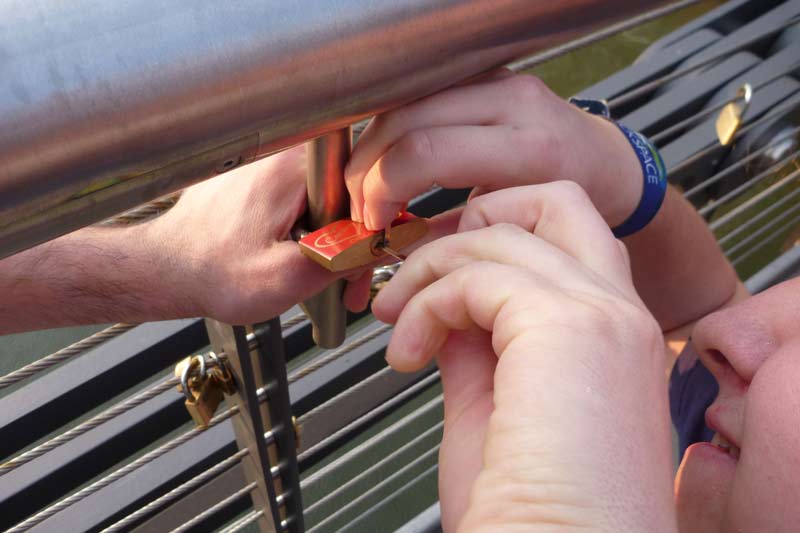 So we held a live lockpicking workshop. After all, this place held loads of padlocks for practice. (And for some unknown reason couples seem to use particularly cheap locks for demonstrating their everlasting love.)
Part of the ritual is that the couples throw the keys to their locks into the river, which means that they will not be able to put their lock back in its right place - unless they learn how to lockpick.

We lockpicked the love locks and re-arranged them to one long chain - a reference to the so-called Padlock Challenge known in Locksport.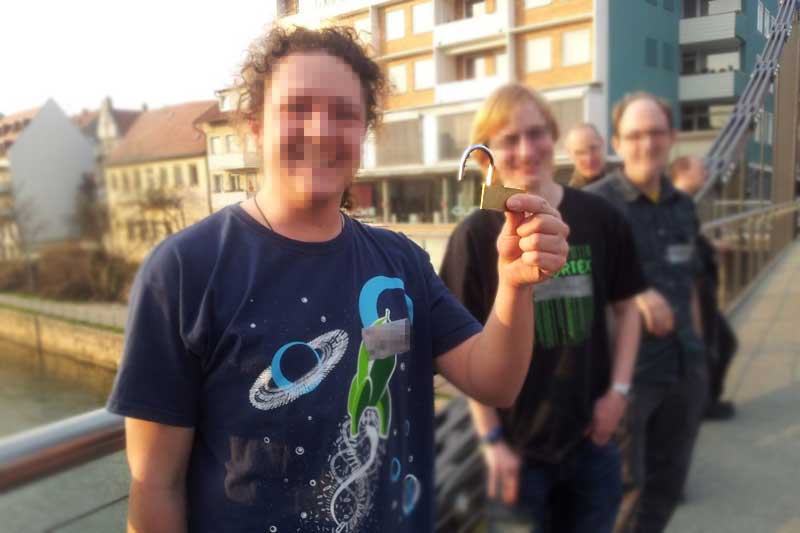 Photo: Daniel Zipris
Many passers-by were interested in what we were doing. Since we did not break nor steal anything, nobody said anything against our preoccupation. Many people liked the idea, agreeing that padlocks are a very bad symbol for love.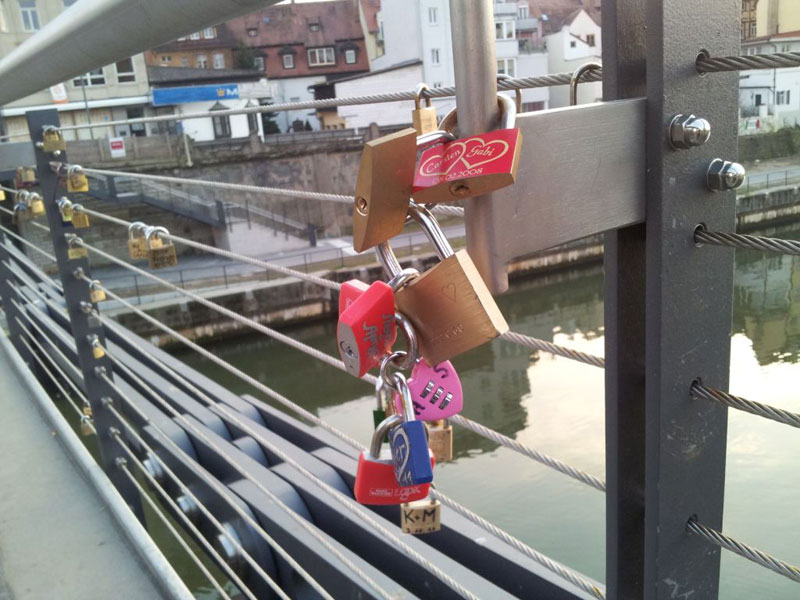 Photo: Daniel Zipris
As a part of LiWoLi in Linz, I carried out a second intervention at the Eisenbahnbrücke. The setting here was different, as this bridge, unlike the Kettenbrücke, is not situated in the city centre. Also, there were much fewer Love Padlocks here.
Not many passers-by stopped to talk to us. Instead, after around an hour the police drove by: Somebody had called them, and they wanted to know what we were doing and who was in charge. I told them about the workshop context and explained to them that we were opening and re-attaching the padlocks. When the police officer asked what that was good for, I replied: "To show that love can be opened without breaking it". He apparently liked that. They wrote down my particulars, but we did not get into further trouble.

We found one conspicuous lock: It was marked with "4-EVER", "<3" and "DON'T OPEN", and had a letter on plastic film attached to it: "I will love you for ever Jane, even though I am an a****** sometimes. (If you open this lock it probably means that we have broken up. :( I LOVE ONLY YOU MOUSIE!"
Of course, this lock caught our special attention, but none of us succeeded in opening it. In the end, we decided to attach our picked locks to this one, allowing its love to flow freely through the other locks. What's more, we were not able to close again one of the locks we had opened, so we attached it openly to the other locks, assuming that this couple must have an open relationship now.

Of course I am aware that this is a forcible, non-consensual act. Later that day I had a long chat with a fellow artist, Eleanor Greenhalgh, about the feelings of guilt we had experienced when tampering with the locks, especially with the lovingly decorated ones.
Lovepicking is not only the disrespectful hacking of other people's relationships. It is a remix. New connections are made between the couples, and new symbolic meanings emerge.

A week later, a friend from Linz went to the bridge and took this picture: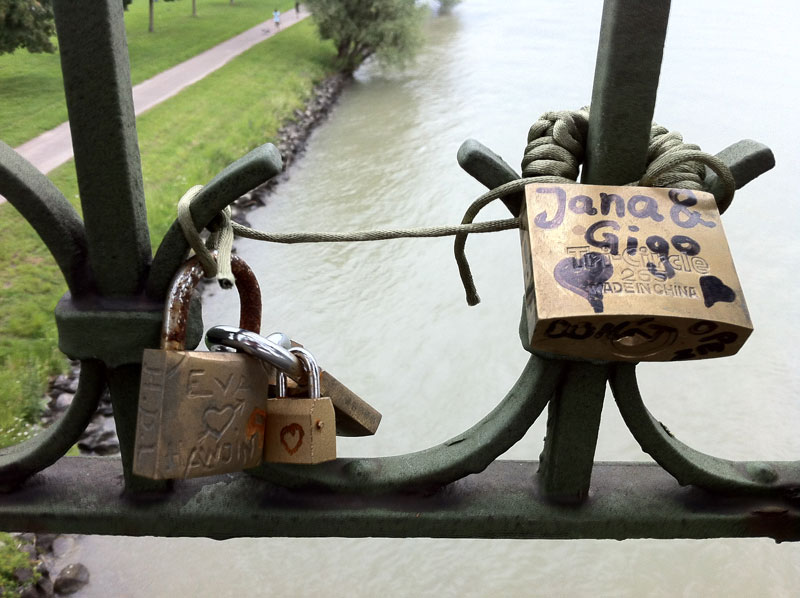 Photo: mkalten
Apparently, somebody had tampered with the locks again and remixed them a second time.


previous workshops:
Mar 25, 2012 b4ckspace, Hackerspace Bamberg, de
(registration required)
May 25, 2012 LiWoLi, Linz, at
(registration required)