lumiBots
(2009-2011)

The lumiBots are small, autonomous robots that react to light. They can leave glowing traces which slowly fade away, so that older, darker trails are visible as well as newer, brighter ones. This way, generative images that consistently change are generated. They are appealing just for the glow effect, but also have a deeper meaning for the robots: They can follow the lines with their light sensors, and amplify them whilst preferring brighter (newer) and broader (more often used) trails.
The lumiBots can follow their own lines as well as those of the other robots and such create an ant-trail-like mechanism, luring more and more robots on the same trail. The lines fade away with time, a quality that is essential to local information transfer: It guarantees that there will never be a data overflow.
Under their transparent shell one can see their glowing electronic organs pulse. They herein resemble creatures from the deep sea, or jellyfish, as well as in their limited cognitive capacities. The robots do not have a memory chip, but the glowing trails can be seen as a kind of external memory.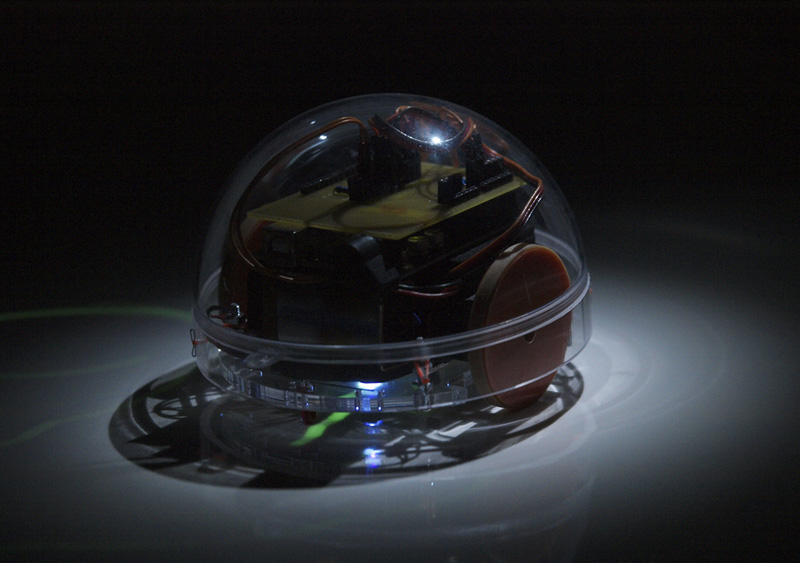 Photo: S.T. Heizmann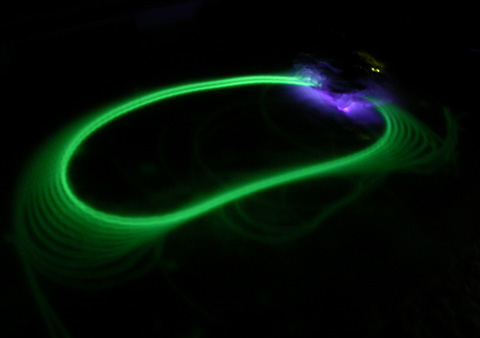 A lumiBot that follows and amplifies its own trail
The lumiBots can make emergent effects graspable, such as the so-called Ant Colony Optimization algorithms by visualizing the principle of pheromone trails (scent trails) with light trails. The swarm robots behave like ants that follow the scent trails of other colony members. The lines are medium and information in one: Since the trail itself already gives information about place and time, as well as direction and relevance by its concentration and width an elaborate (radio or wireless) network is redundant.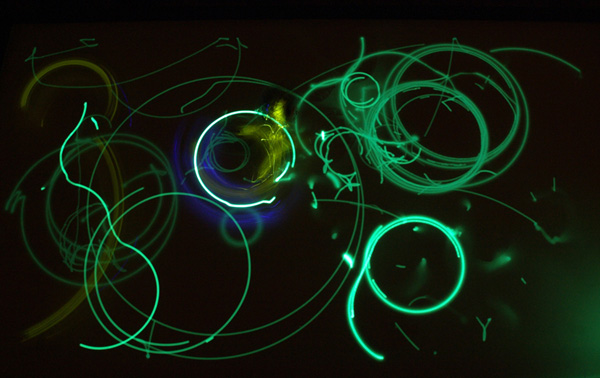 Photo: S.T. Heizmann
The lumiBots trace their path with a UV LED on a glow-in-the-dark mat. Each robot has its own "brain" in the form of an Arduino micro-controller, and two light sensors. The behaviour of the lumiBots is not pre-programmed and not predictable. It emerges from the interaction between the robots, the simple rules they follow, and the influences from their surroundings.
With the lumiBots, I explore the topic of emergence, swarms, and artificial life forms that I have touched with my interactive floor projection "schüchterne lichter" (timid lights) from 2006: An artificial swarm that evolves emergent (not programmed or planned) effects and evokes reactions similar to those towards a living creature from the observer.

The system currently consists of nine robots in an arena of approx. 1m x 2m in a darkened room, but is of course variable concerning size and the number of robots. The robot platform was developed together with Philipp Urbanz and is based on Arduino.


acknowledgments:
Many thanks to everybody who contributed to the realisation of the project.
Special thanks go to Philipp Urbanz for technical assistance, Verena Hafner as science cooperation partner, supervisors Jörg Hundertpfund and Reto Wettach, Schwarmlabor (UdK/TU/T-Labs), John Hirschberg, Stefan Hermann, Nils Weinert, tinkersoup and ORAFOL.

recognitions:
2012 Ferchau Art of Engineering, award winner
2011 Japan Media Arts Festival, Jury Selection Works
2010 APPLAUS, Faculty of Design at Potsdam University of Applied Sciences

presentations:
Apr 13, 2012 technarte Conference on Art and Technology, Bilbao, es
Nov 20, 2011 PIKSEL Festival, Bergen, no
May 13, 2011 Robots & Art Workshop, ICRA conference, Shanghai, cn
Jan 31, 2011 dorkbot, Transmediale.11 satellite event, c-base Berlin
Dec 06, 2010 Demo at Cognitive Robotics seminar, Human-Robot-Interaction, Humboldt University Berlin

exhibitions:
Feb 07-10, 2012 Art of Engineering, Gummersbach, de
Nov 17-20, 2011 PIKSEL Festival, Bergen, no
Aug 10-13, 2011 Chaos Communication Camp, Finowfurt, de
Feb 01-03, 2011 TRACE:ability, transmediale.11 satellite event, c-base, Berlin, de
Nov 04-06, 2010 lab30 Media Art Festival, Augsburg, de
Oct 15-17, 2010 APPLAUS, University of Applied Sciences, Potsdam, de
Aug 16-20, 2010 DIS conference, Aarhus, dk
Jul 17-19, 2009 Rundgang (annual exhibition), University of the Arts, Berlin, de (public beta testing of the prototype called PHERObot - together with Ferdinand Leineis and Philipp Urbanz)
Jun 13, 2009 Lange Nacht der Wissenschaften (Long Night of Science), Berlin, de (public alpha testing of the prototype called PHERObot - together with Ferdinand Leneis and Philipp Urbanz)

publications:
2011 Kronemann, M.L., Hafner, V.V., Urbanz, P., LumiBots (abstract and video documentation), ICRA Robots and Art Workshop DVD, Shanghai, ICRA

2010 Kronemann, M.L., Hafner, V.V., LumiBots - Making Emergence Graspable in a Swarm of Robots, Proceedings of DIS 2010, The ACM Designing Interactive Systems Conference, Aarhus, pp. 408-411 link to Short Paper (pdf)

2009 Kronemann, M.L., Swarm Robots - Wie aus einfachen Regeln emergente Systeme entstehen, Bachelor Thesis, Fachhochschule Potsdam
link to detailed documentation with theory background (pdf, in German)